The intersection of contraries fascinates me: ecstasy and agony; humor and tragedy; natural and constructed realities; experience and news. I find that I'm curious about the struggles of diversity vs. unity in human, animal and plant societies. I am captivated by complex issues that we all face,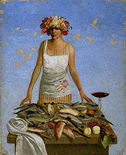 and yet experience personally, intimately. I am interested in the role of dark feelings, thoughts and states of mind in the process of transformation, l am drawn to fire beneath reserve.
I am interested in complex story telling using cultural myths and histories that reach back into our collective and personal pasts. Figures and still life figures evolve as open ended metaphors for concepts and environments that are themselves also metaphors, and therefore fold - like fabric, time, or paint - back in on themselves. Like a poem, a painting is a surface. The depth is in the surface (oddly). It sort of dawns on you - like the way one remembers a dream sometimes, in fragments that float up all through the day, assembling themselves oddly, disturbingly...